2020 Camps
COVID-19 UPDATE: 7/30/2020
After much consideration, we have made the difficult decision to not hold any in-person camps this summer. This decision was largely based off the current status of our local hospitals. We are sad we won't be able to hang out with everyone, but trust God during this ever-changing season!
For Nikos Day Camp, we will be making and delivering Camp Kits to every family each day. These will include all the activities, lessons, games, and lunch that they would've received in person that align with our theme for this year. Videos will be posted on our YouTube channel for them to experience our club times, verse memorization, and activity instructions.
We want to thank all of our donors and volunteers for your continued support to be able to still reach these families. Please join us in praying for God to be glorified with these kits and that our kids would still be impacted and able to learn from them!
**PLEASE CHECK BACK FOR NEW UPDATES**
For more information, email Jessica Post at Jessica@mpaustin.org
"Mission Possible people are so loving and caring. They will be there with you through the good times and the bad. I love Camp Nikos because it teaches me more about Jesus and helps me show the kids why they are here."

– Tyte (pictured Below, on left), Former Nikos Camper and Volunteer
Tyte started at Camp Nikos when she was 5 years old. She is now 15, attends our FUZE program, and volunteers at every Mission Possible camp! Tyte is one of hundreds of stories we have heard and seen over the years that represents our vision to see lives changed, communities impacted, and generations transformed.
The Nikos Camping Ministry exists to connect and equip the church with children from the inner-city for Christ-centered relationships. Our vision is to see lives changed, communities impacted, and generations transformed. Each camp provides a safe place for children to be children, and operates as a venue for Christ-centered relationship to form. Mission: Possible! Austin hosts 5 camps a year for children and youth ages 6-18. Our goal is to break the cycle of poverty one life at a time. Our one-on-one ratio of camper and camp counselor provides opportunities for relationships to form and life-change to happen.
Camp Summary
Camp Nikos: Is held twice a year, during AISD Spring Break, and a week in June. Camp Nikos is for children ages 6-11, and mainly come from other programs in East Austin such as Big Fish Club or Tutoring. Kids enjoy fishing, swimming, canoeing, ziplining, camp fire, Biblically themed games and stories.
Restoration Art Day Camp: Is held once a year by Shelley Schreyer, Director of our Restoration Art Center (RAC), located in Pflugerville, Texas. RAC kids (ages 3 to 13): hear Bible stories, sing songs, learn verses, do crafts of all sorts, learn about mixed media, clay, paper crafts, gardening, cooking and sewing.
Youth Leadership Camp: Is held twice a year. Every summer we go to the H.E. Butt Foundation camp with a group of teenagers and mentors for deeper discipleship and leadership development. Usually around Columbus Day weekend in the fall, we go to the beach in Galveston, Texas or go tent camping. These camps are special as we are now able to go deeper and grow a leadership pipeline for our youth.
Volunteer
"Serving at Camp Nikos will change your life. You must serve!"

– Pastor Sean Jones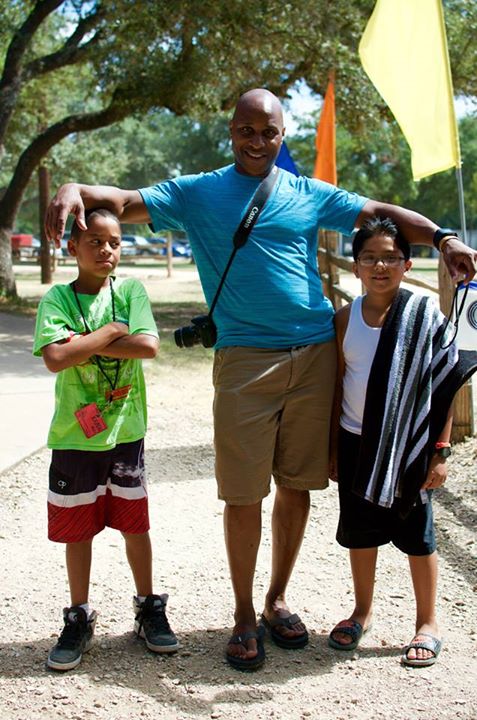 Is your church or organization interested in serving with us? Reoccurring volunteer needs are:
Lifeguards
Adult Camp Staff (Age 19+)
Camp Counselors (Age 14+)
Activity Helpers
Kitchen Crew
Camp Nurse & Nurse Assistants
Parent FAQ
Parents: There are common questions about camp. What do I need to bring? How do I sign my child up?
Child Selection for Camps: All of Mission Possible Austin camps are free for children in our programs. Every child attending camp is sponsored by someone else. Because of this, and the limited space at our camps, every child in our program is NOT guaranteed a spot at camp. Camp attendance depends on behavior, program attendance, age/grade, and selection of Mission: Possible! Austin Staff.
LICE: LICE CHECKS will take place at the check-in. If your child has lice, they may be sent home and not able to attend this camp. Please make sure you check/treat your child for lice before coming to avoid this*
Medication: Any medication sent to camp HAS TO BE IN ITS ORIGINAL CONTAINER. This is a legal requirement and will be enforced. Medication is collected by the camp nurse and distributed at camp. All prescribed medication will be counted and verified by the camp nurse upon check-in.
Lost and Found: Mission Possible Austin is NOT responsible for lost items. If your child loses an item at camp you can contact Mission Possible Austin staff to see if the items were brought back.
Common Packing List for Camps
PLEASE PUT YOUR CHILD'S NAME IN/ON EVERYTHING
Your personal hygiene items and needs – If you wet the bed, bring pull-ups or extra bedding.
Deodorant/lotion etc.
Brush/comb
Toothbrush/toothpaste
Hat/sunscreen
Closed toed shoes!
Shorts, jeans, long pants, 6-7 pairs
Shirts, 6-7 short sleeve and 1 long sleeve (if mosquitoes are bad)
A jacket or sweatshirt for layering if it gets rainy.
Swimsuit (summer camps & fall retreat)
*1 Towel for pool (Please use different towel for creek/pool and showers)
2 towels for showers
Underwear
Socks
Pillow, a sleeping bag, sheets
Bible (Let us know if you do not have your own Bible.)
Bug spray
Flashlight
NO KNIVES OR SHARP DEVICES, Firearms, Weapons, Drugs, Alcohol, Electronic Devices, pornography, ETC. These items, if brought to camp, will be collected and returned to the child at the time of drop off. If caught with these items, appropriate authorities, parents, etc. may be notified and your child will be sent home from camp