"Rather, speaking the truth in love, we are to grow up in every way into him who is the head, into Christ, from whom the whole body, joined and held together by every joint with which it is equipped, when each part is working properly, makes the body grow so that it builds itself up in love." 
Ephesians 4:15-16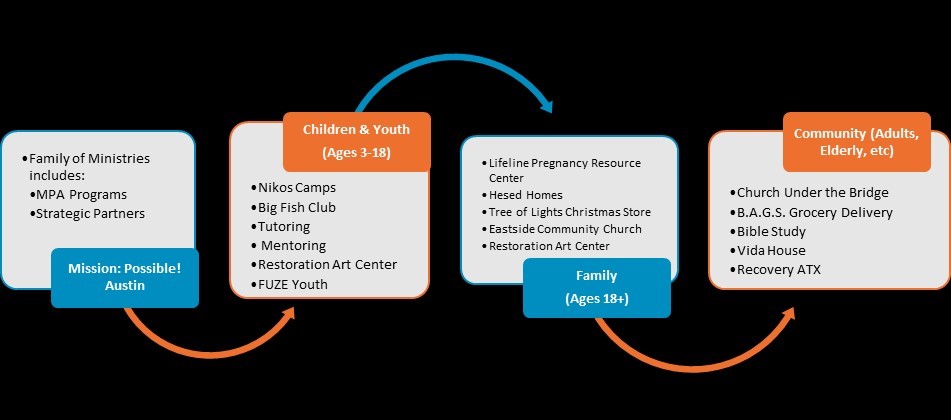 A traditional family has many different members, but it works and lives together as one family. Mission: Possible! Austin is committed to living as Christ's body in the community. Our "family of ministries" includes our programs and other organizations to help the community as a whole. All of our programs and partners are committed to building relationships with those they serve to break the cycle of poverty one life at a time. From a Biblical worldview, all of our programs are expressed through the Gospel and education.
Strategic Partners in Our Family of Ministries
Eastside Community Church exists to be a family of believers who worship, belong, serve, and make disciples for the good of our community and the glory of God. ECC is a plant from Wells Branch Community Church, and serves as a part of Mission: Possible! Austin's "Family of Ministries". Mission: Possible! Austin is supported by a variety of churches, but Eastside Community Church serves as a local church body committed to serving the community. Sunday service is at 11 a.m at 1190 Chicon St. Austin, TX.
For more information, please email info@eccatx.com.
Vida House exists to train ministry leaders in and for cross-cultural mission in life-giving ways. Vida House is a creative, innovative, diverse learning community. Participants are formed as a Christian community and trained to lead Christian communities. Each component is intentionally directed toward forming visionary, missionary leaders. We are grateful to be part of how God is at work to raise up a new generation of servant-leaders for his world! Vida House meets Tuesday and Thursday mornings from 6:30AM-8:00AM at 1190 Chicon St. Austin, TX. 
For more information contact Josh Eby at j.eby@vidahouse.org

Recovery ATX hosts Alcoholics Anonymous, Heroin Anonymous, and Narcotics Anonymous groups throughout the week in the evenings. Check out their website for calendar events. For more information, please email thestation@recoveryatx.org.
Texas Christian Community Development Network is a growing group of Christian non-profit organizations and churches sponsored a conference that has continued to grow and provide meaningful workshops and speakers for Christian around Texas who wanted to make a difference for and with the poor and disenfranchised in their own communities. For more information, please email director@txccdn.net.