Generational Poverty
Generational poverty is when someone has been in poverty for three generations or more. This is the circumstance for most of our families and the chronically homeless. The cycle of poverty causes a wide variety of issues, including:
Spiritual indifference
Child health/nutrition needs
Adolescents in trouble (e.g. pregnancy, substance abuse, runaways, lack of educational support)
Child safety issues (e.g. child abuse/neglect, inadequacies foster care and adoption)
Domestic violence
Lack of child care
Lack of early childhood education/development
Lack of child and family support
Lack of adequate medical/dental care
Homelessness
Good and positive programs will have limited effectiveness as long as children return to the broken family unit environment. Mission: Possible! Austin is a family of ministries that cares for people in the inner-city by connecting and equipping the Body of Christ to make relational investments through solutions-based programs. Through relationships formed, we provide a circle of care so that the "Hope of Christ" can be shared and lives can be transformed. Our focus is strategic yet adaptable to the ever-changing community we serve.
Understanding Poverty & A Gospel Approach
Behavior Related to Poverty
Intervention
Laugh when disciplined.
This is a way to save face in matriarchal poverty.
Understand the reason.
This opens the opportunity to talk through different, more appropriate responses.

Argue loudly with authority.
Poverty is participatory, and the culture has a distrust of authority. There is a tendency to see the system as inherently dishonest and unfair.

Model respect.
Do not argue back. Model what respect looks like for them as people and for other people around you. This may include role-playing with another authority figure.

Angry response.
Anger is based on fear. Ask yourself what their fear is based on. Are they saving face?

Be firm. Be patient.
Respond with a firm tone. Allow them the chance to cool down. You may need to repeat yourself at a slower rate.

Physically fight.
This is necessary to survive in poverty. Conflict resolution is not used in everyday life. There also exists the belief that they are less of a man or woman if they are unwilling to fight.

Fighting is unacceptable.
Be firm and direct with your response. Make eye contact. Think through options of how to settle disputes. Separating individuals from the situation is common.

Cannot follow directions.
Little memory for keeping procedures or linear tasks is used in poverty. Doing things in a sequence is rarely used or valued.

Talk through steps.
Constantly remind children of what is coming next. Practice healthy transitions and rituals. Have them practice remembering things.

Worldview Chart: A general view to understanding poverty*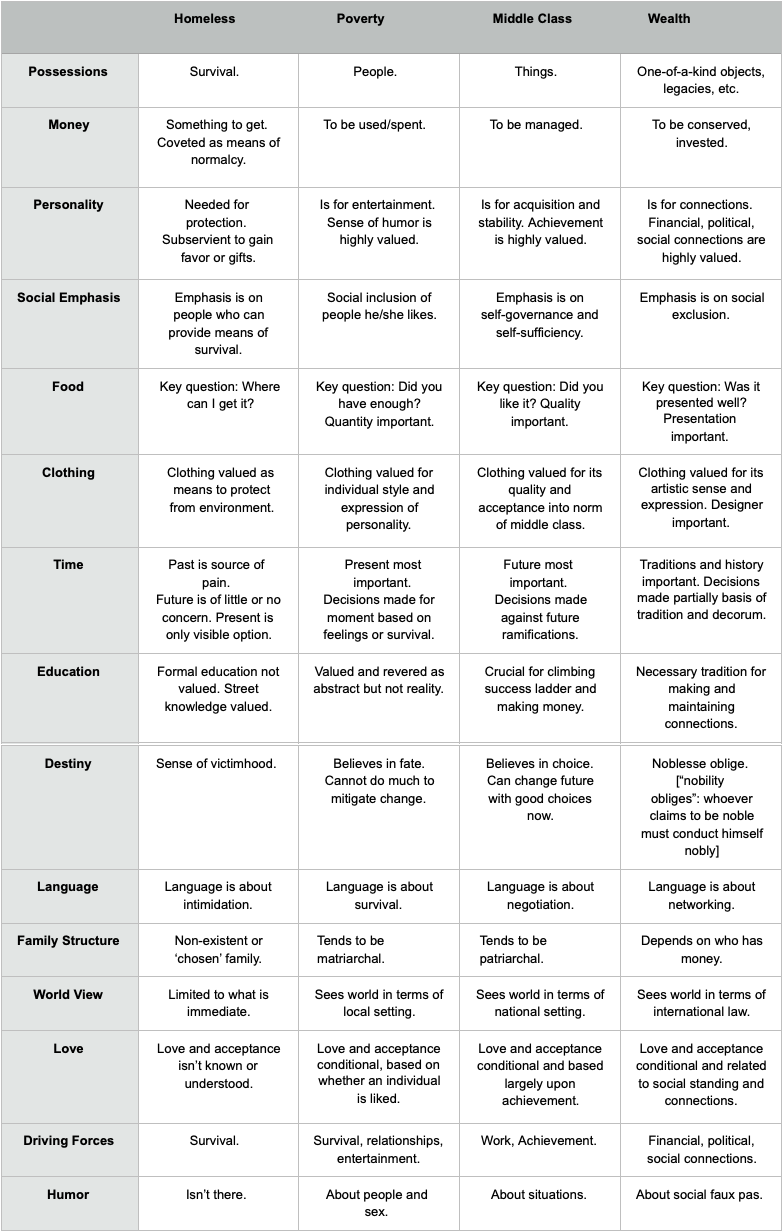 *adapted from Ruby K. Payne's "A Framework for Understanding Poverty."
Acknowledgement + Communication = Relationships
Quiz #2
Results
You have completed quiz 2. One more to go!
Please review your answers and try again.
#1.

Generational poverty is when someone has been in poverty for __ generation(s) or more
#2.

What are some examples of issues within the cycle of poverty?
#3.

How can you help someone who has trouble following directions?