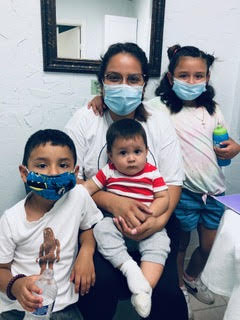 "Every time I attended my classes there, the staff was always expecting me with big smiles on their faces."  This is an example of the kind of real life stories that keep us coming back for more every day.  Women like Xenia, who find empowerment through the loving staff at Lifeline Pregnancy Resource Center, are common success stories around here.  Xenia writes, "When I started coming to Lifeline I was expecting my third child.  I didn't have the financial or spiritual support I needed."  Many have expressed the distinct impact of being engaged with spiritually at Lifeline.  There is a physical need and a material need, but it's the relational needs that end up having the greatest impact.  That is the goal for every woman that walks into our center!  
"The thing I liked the most about Lifeline was every time I was about to leave they always asked me if I wanted them to pray for me. I felt really peaceful."
Lifeline is a place of safety and trust for women in East Austin.  Our classes offer vital education for both the pregnancy process, as well as the years that follow.  Many women will continue coming for years because of the relationship built and the educational need being met.  "They gave me support and I learned many new things at each class.  Classes teaching me new ways to be a good parent."  But beyond that, what we are most proud of is the way we engage with clients spiritually.  Not many pregnancy resource centers offer weekly education and Bible study to their clients, but we at Mission Possible believe that these life-on-life relationships are what transform communities!  Our clients know they can turn to us for love and support.  "I'm very grateful for Lifeline Pregnancy Resource Center!  They have been very helpful in every sense of the word."
**Lifeline is currently in need of diapers (sizes 4, 5, and 6) and baby wipes!  Please consider donating.  
Donations can be dropped off at Lifeline on Mondays between 10am and 2pm located at 1190 Chicon St. Austin, Tx 78702.  Alternatively, gift cards can be sent to Mission Possible at PO Box 142076 Austin, Tx 78714.